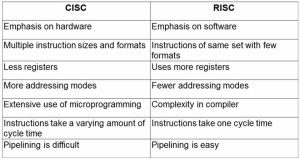 The architecture of the Central Processing Unit (CPU) operates the capacity to function from "Instruction Set Architecture" to where it was designed. The architectural design of the CPU is Reduced instruction set computing (RISC) and Complex instruction set computing (CISC). CISC has the capacity to perform multi-step operations or addressing modes within one instruction set. It is the CPU design where one instruction works several low-level acts. For instance, memory storage, loading from memory, and an arithmetic operation. Reduced instruction set computing is a Central Processing Unit design strategy based on the vision that basic instruction set gives a great performance when combined with a microprocessor architecture which has the capacity to perform the instructions by using some microprocessor cycles per instruction. This article discusses the RISC and CISC architecture with appropriate diagrams. The hardware part of the Intel is named as Complex Instruction Set Computer (CISC), and Apple hardware is Reduced Instruction Set Computer (RISC).
What is RISC and CISC?
A complex instruction set computer is a computer where single instructions can perform numerous low-level operations like a load from memory, an arithmetic operation, and a memory store or are accomplished by multi-step processes or addressing modes in single instructions, as its name propose "Complex Instruction Set ".
A reduced instruction set computer is a computer which only uses simple commands that can be divided into several instructions which achieve low-level operation within a single CLK cycle, as its name propose "Reduced Instruction Set "
RISC Architecture
The term RISC stands for ''Reduced Instruction Set Computer''. It is a CPU design plan based on simple orders and acts fast.
This is small or reduced set of instructions. Here, every instruction is expected to attain very small jobs. In this machine, the instruction sets are modest and simple, which help in comprising more complex commands. Each instruction is about the similar length; these are wound together to get compound tasks done in a single operation. Most commands are completed in one machine cycle. This pipelining is a crucial technique used to speed up RISC machines.
Reduced Instruction Set Computer is a microprocessor that is designed to carry out few instructions at the similar time. Based on small commands, these chips need fewer transistors, which make the transistors inexpensive to design and produce. The features of RISC include the following
The demand of decoding is less
Few data types in hardware
General purpose register Identical
Uniform instruction set
Simple addressing nodes
Also, while writing a program, RISC makes it easier by letting the computer programmer to eliminate needless codes and stops wasting of cycles.
CISC Architecture
The term CISC stands for ''Complex Instruction Set Computer''. It is a CPU design plan based on single commands, which are skilled in executing multi-step operations.
CISC computers have small programs. It has a huge number of compound instructions, which takes a long time to perform. Here, a single set of instruction is protected in several steps; each instruction set has additional than 300 separate instructions. Maximum instructions are finished in two to ten machine cycles. In CISC, instruction pipelining is not easily implemented.
The CISC machines have good acts, based on the overview of program compilers; as the range of innovative instructions are simply obtainable in one instruction set. They design compound instructions in the single, simple set of instructions. They achieve low-level processes, that makes it easier to have huge addressing nodes and additional data types in the hardware of a machine. But, CISC is considered less efficient than RISC, because of its incompetence to eliminate codes which lead to wasting of cycles. Also, microprocessor chips are difficult to understand and program for, because of the complexity of the hardware.
Comparison Between RISC and CISC
RISC stands for 'Reduced Instruction Set Computer Whereas, CISC stands for Complex Instruction Set Computer. The RISC processors have a smaller set of instructions with few addressing nodes. The CISC processors have a larger set of instructions with many addressing nodes.
Memory Unit
RISC has no memory unit and uses a separate hardware to implement instructions. CISC has a memory unit to implement complex instructions
Program
RISC has a hard-wired unit of programming. CISC has a microprogramming unit
Design
RISC is a complex compiler design. CISC is an easy compiler design
Calculations
RISC calculations are faster and more precise. CISC calculations are slow and precise
Decoding
RISC decoding of instructions is simple. CISC decoding of instructions is complex
Time
Execution time is very less in RISC. Execution time is very high in CISC.
External memory
RISC does not require external memory for calculations. CISC requires external memory for calculations.
Pipelining
RISC Pipelining does function correctly. CISC Pipelining does not function correctly.
Stalling
RISC stalling is mostly reduced in processors. CISC processors often stall.
Code Expansion
Code expansion can be a problem in RISC whereas, in CISC, Code expansion is not a problem.
Disc space
Space is saved in RISC whereas in CISC space is wasted. The best examples of CISC instruction set architecture include VAX, PDP-11, Motorola 68k,And your desktop PCs on Intel's x86 architecture, whereas the best examples of RISC architecture include DEC Alpha, ARC, AMD 29k, Atmel AVR, Intel i860, Blackfin, i960, Motorola 88000, MIPS, PA-RISC, Power, SPARC, SuperH, and ARM too.
Applications of RISC and CISC
RISC is used in high-end applications like video processing, telecommunications and image processing. CISC is used in low-end applications such as security systems, home automation, etc.
From the above comparison of RISC and CISC, finally, we can conclude that we cannot distinguish between RISC and CISC technology because both are apt at its precise application. Today, both RISC and CISC designers are doing all to get an edge on the competition. We hope that you have got a better understanding of this concept. Furthermore, any doubts regarding this concept, or to implement any electrical and electronic projects, please give your feedback by commenting in the comment section below. Here is a question for you, what are the advantages of RISC and CISC?